With already increasing temperature between the neighboring nations of India and Pakistan since the recent issues over Kashmir and surgical strikes, yet there is another dispute and this time also Pakistan is as churlish as ever.
1.) Indus Water Treaty is a treaty over water distribution between India and Pakistan. This treaty was signed in Karachi on September 9, 1960, by Indian Prime Minister Jawaharlal Nehru and Pakistani Prime Minister Ayub Khan.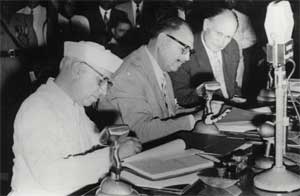 2.) This treaty was brokered by World Bank back in 1960 and since then for 56 years both the nations have been peacefully sharing the water of Indus and it's tributaries.
3.) According to the pact, control over 3 eastern rivers(Beas, Ravi, and Sutlej) was given to India and Pakistan controlled other western rivers(Indus, Chenab, and Jhelum). However, since the Indus first flows from India, according to the treaty, India could use 20% water from Indus for Irrigation and Power Supply.
4.) Due to this pragmatic deal, since 1960, there has been no water war between two nations.
Pakistan itself in July this year sought an international arbitration if India sought to build hydropower projects on the Jhelum and Chenab rivers.
5.) There is highly an unlikely situation that India would abrogate this agreement in near future due to border disputes as, since 1960, both the nations were indulged in three wars still there was no water war between them.